5 best add-ons for Confluence intranet
Many companies across the globe use Confluence as intranet, but why would they do that?
Good question, as doubting is the core of a rational approach.
Vastly customizable, adequately complex, with REST API to back you up in your various integrations. But your Confluence admin already knows that. So why do the users like the idea of an intranet Solution shielded by Confluence?
Refined for Confluence by Refined
Navigate with ease – thanks to Refined for Confluence.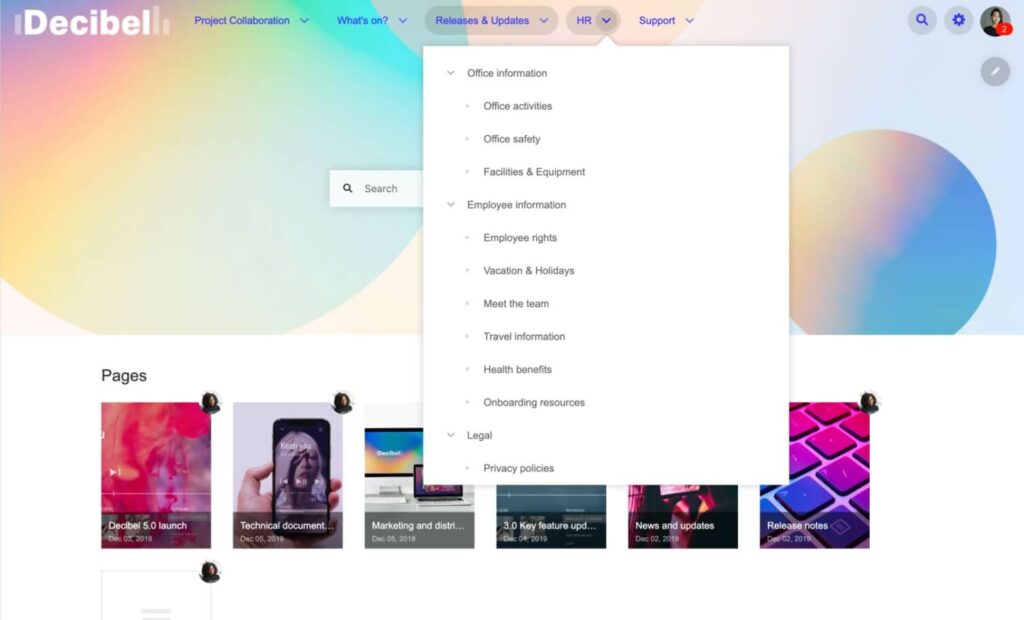 Look at this. Do you remember how intranet solutions used to look like 10 years ago? No? Lucky you! And with this add-on you can make your fellow coworkers make their user experience more up to date. Fancy themes, logical drop-down menus, customizable categories? Checkmate.
If we could read minds, we would say you liked the picture at the top of the page. Why? It doesn't look like that unwelcoming and prudent anymore. First impression matters a lot. First step of efficient use of your Confluence as Intranet is to shift people from "What the heck is this" towards "Yeah I kinda like it."
But what if the guess above was wrong? What if you don't like that picture because of the design or its concept? Good point, so why you don't go and give it a try and shape it according to your preferences? For free? Evaluation period is available for ALL the addons listed on this page at the time of writing of this article. 
Favorite Macros for Confluence by IXPERTA
Empower the content creation with Favorite Macros for Confluence.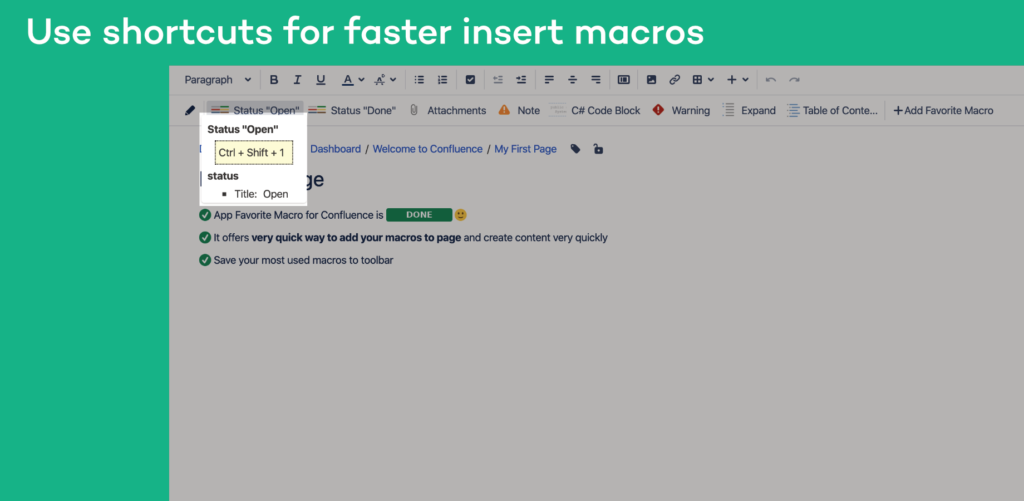 Confluence is a powerful platform. Employees in charge of skillfully tailoring the content for your company are definitely going to like this, (we dare to say,) facile add-on for content creation.
With the help of keyboard shortcuts, you can operate your favorite macros toolbar and boost your performance while composing new content or editing the current one.  Having the macros available instantly may not seem such a difference of someone who rarely creates structured content for your Intranet. However, the more you create or edit while having this tiny but hefty add-on at your service, the more time save on your routine.
Should any non-technical users had an issue to add a macro to their toolbar, your administrators can save the day and preset some macros for everyone in your Intranet. (We bet this doesn't happen – but what if. The dev's of Favorite Macros for Confluence thought this through.)
Comala Document Control by Comalatech
Even more transparent approval process with Comala Document Control.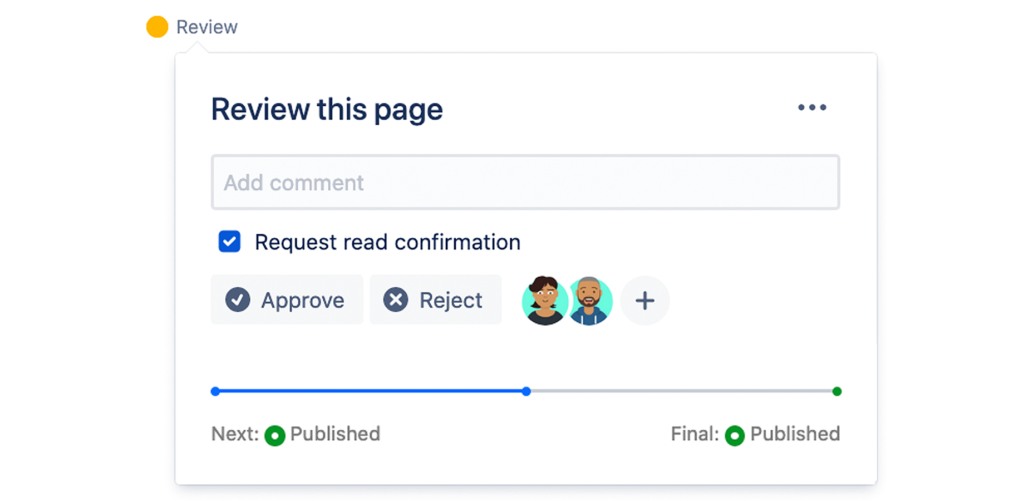 Uhm, yes, we know you know!
That's where Jira comes to help. But let us do the math for you: Total count of users + your time integrating both platforms + managing both platforms + training the dedicated users.
Do you imagine the frowning faces of your company's stakeholders?
Or you could run this add-on on your Confluence, setting up the workflows in Confluence + saving some huge bucks + training the Confluence users.
The Atlassian philosophy is to eliminate redundancy. Besides, you were searching for the best Confluence intranet addons, not for Jira. We know it. Google told us. (Just kidding).
Luckily for us, someone had (more than once) enough with unclear guidelines, troubles with new policy approval or simply wondering who was the right person to speak to.  Therefore, Comala Document Control was created. We don't want to say it is super easy to setup, even easier to handle, transparent, and brutally efficient. 
draw.io Diagrams for Confluence by SEIBERT/MEDIA
A picture is worth a thousand words. Meet Diagrams for Confluence.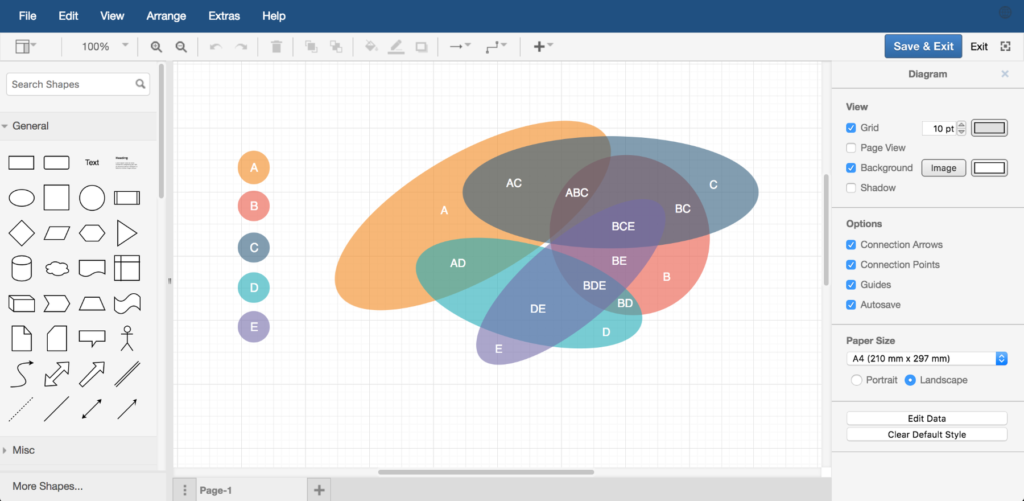 Org charts, Wireframes, Mind maps, BPMN, UML … you name it. Broken page because someone tried to embed a chart from elsewhere? Oh, the other website is not on the company's SSO.  And your managers won't stop talking about all the beautiful charts they must have on their Confluence pages. Teach your company how to use this add on and you will be hero in their eyes.  Imagine the terror.
"Where is my Superduper-important_presnetation.pptx? It must be in this email. Nope, the other one. Maybe the last one? Come on, the meeting starts in couple of minutes!"
We don't want you to torture yourself by uploading VISIO attachments to your emails.  Attachment size limit? Recipient's inbox full? And what if you send the critical project plan to someone who is out of office? Hah, not anymore! 
Polls for Confluence
Let every voice be heard with Polls for Confluence by Mohami.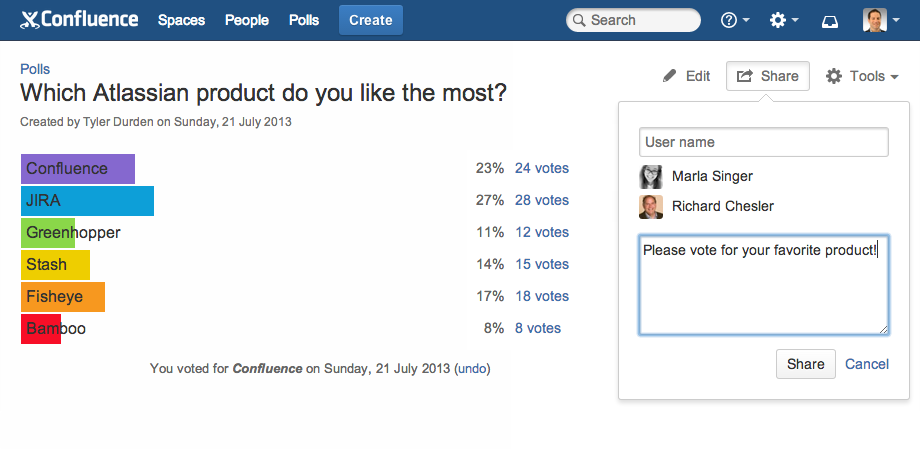 What does the team think of our upcoming project? Which variant of the new company logo is more appealing to your audience? What is 2+2 or where does the Universe end? Ask anything, share it with others, embed your polls wherever needed. Then evaluate your results as pie charts and summary graphs. 
All of this in real time. Sounds appealing? Submit your vote here!
Jokes aside, any company bigger than maybe 2 or 3 people needs to make decisions. And the point of this article is to help you build your Intranet solution around Confluence – to help you with decision making. Or, do you want to go back to dozens and hundreds of emails? We know you don't, that's why you are here.