Easily create issues with Jira app Quick Create with Issue Templates
Create issues in JIRA with this app by IXPERTA with ease. Intuitive use, preset templates, meaningful icons. Be sure you create your issue in the correct way – on the 1st try!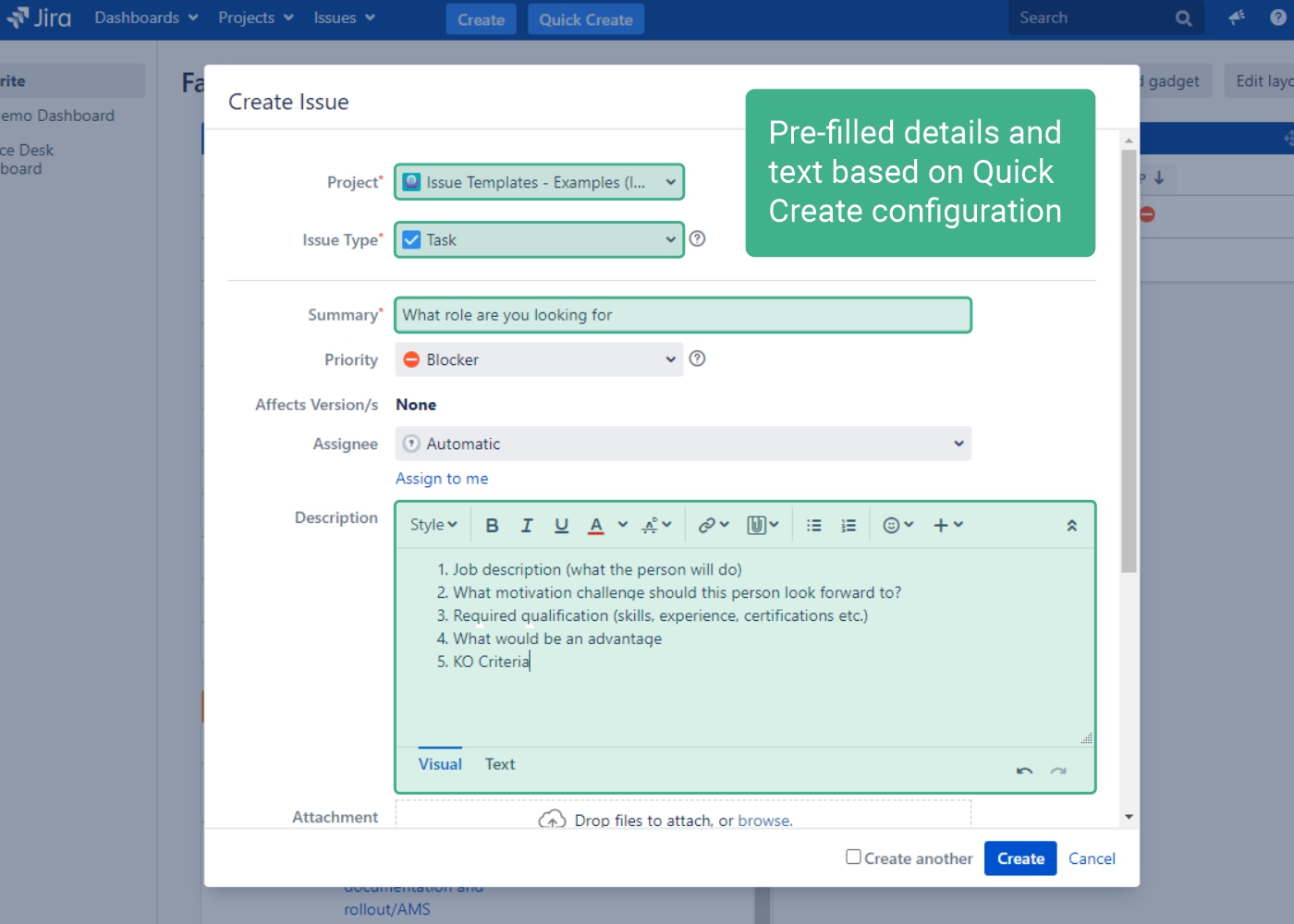 Trusted by the professionals across the globe Experience the creation of flawless issues in the speed of light
Getting lost while searching for the correct component, project key, assignee? Predefined categories with icons will guide your steps and decrease the error rate. But wait, there's more…
6 functions you appreciate the most
Do you handle IT request, HR issues, or even internal finances in JIRA? We tailored the use of app to fit your need, across all the business processes.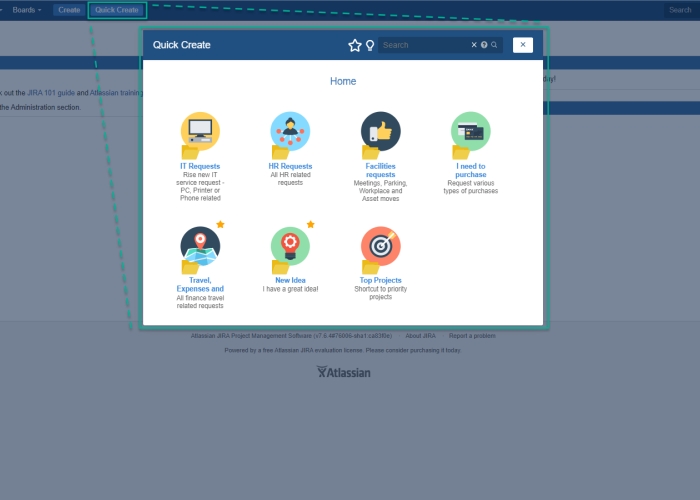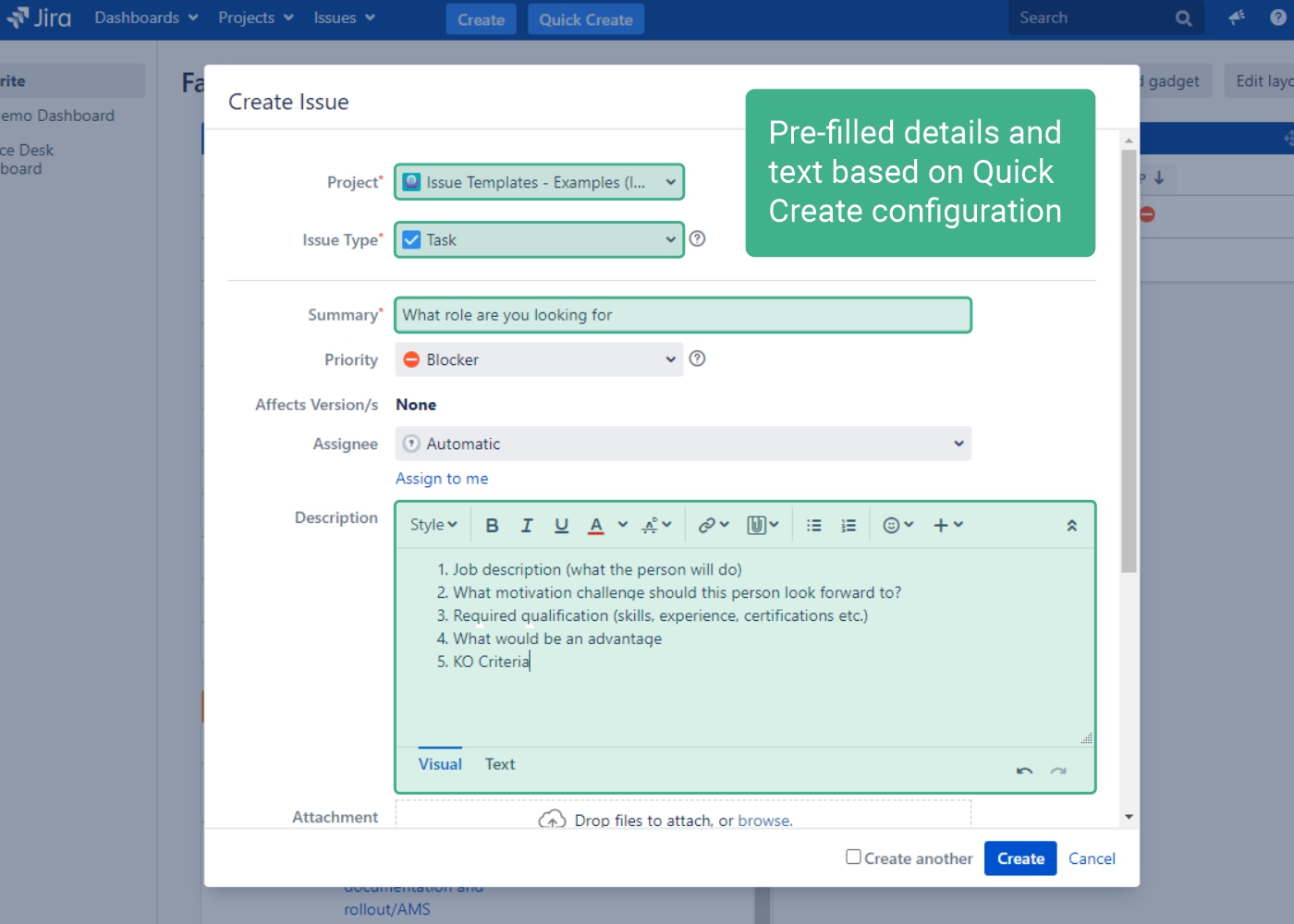 Tailored Issue templates for each team
Create your issues thanks to predefined categories and templates. Absolutely error defiant. Unique templates for each team? Check.
Graphical display of categories and requirements
The graphical symbols are here to make your search more comfortable. You may upload your own icons or pick some from the wide variety of the existing ones.
The most frequent requirements are always at hand
Filter the most popular categories in order to find what you need.
This app for JIRA gets better every now an then. Do you miss anything? Feel free to tell us, we won't get mad, promise! Share your idea with us and we will be happy to tackle it during the next development phase.
Do you like clams? Join more than 31 000 other satisfied users and be happy as a slam as well
What do our customers value the most? The tremendous time savings. Both the novices and the power users. Everybody loves the intuitive use.
If you are looking for a simple solution when it comes to assigning a template per issue type, then I would say this is the one to go. We tested a couple of different solutions and they were very complex and not as easy and intuitive as Quick Create.
The add-on is simple, intuitive and very user-friendly. It greatly facilitates user work. Thanks to creators!
For our company, this add-on is very useful ! Helps simplify processes mainly for newcomers.Thank you for that.
Surprisingly simple plugin with huge simplifying effect.
I find Quick Create with Issue Templates as a highly beneficial tool for my teams to work with, as it appropriately sets the frameworks to the end-users and reduces the error rate noticeably during the issue creation process.
Check out our tips and tricks for a better efficiency in the field of Atlassian apps
Useful tool, best practice and news from the Atlassian Universum.
Stay tuned and absorb the newest intel which moves your team forward.
Please yourselves with a Free Trial licence
Consult directly with the experts
Experience the personal online tour of our app Quick Create with Issue Templates with our experts. We will suggest a meeting date in 24 hours from the reception of your request.
By pressing the "Sounds great, sign me up!" you agree with your email address use for the purpose of further contacting according to the Terms and Conditions.
Try the app for up to 30 days for free and extend if you want
FAVORITE MACROS FOR CONFLUENCE
Fast macro handling with free app Favorite Macros for Confluence
Have your most used macros ready at hand. Confluence content creation is going to be smoother than ever, with this app by IXPERTA.
Discover other apps & become a JIRA and Confluence hero with these tweaks.
Become efficient and effective with the help of IXPERTA's apps. Check what's on the menu today and pick what eases your work the most.